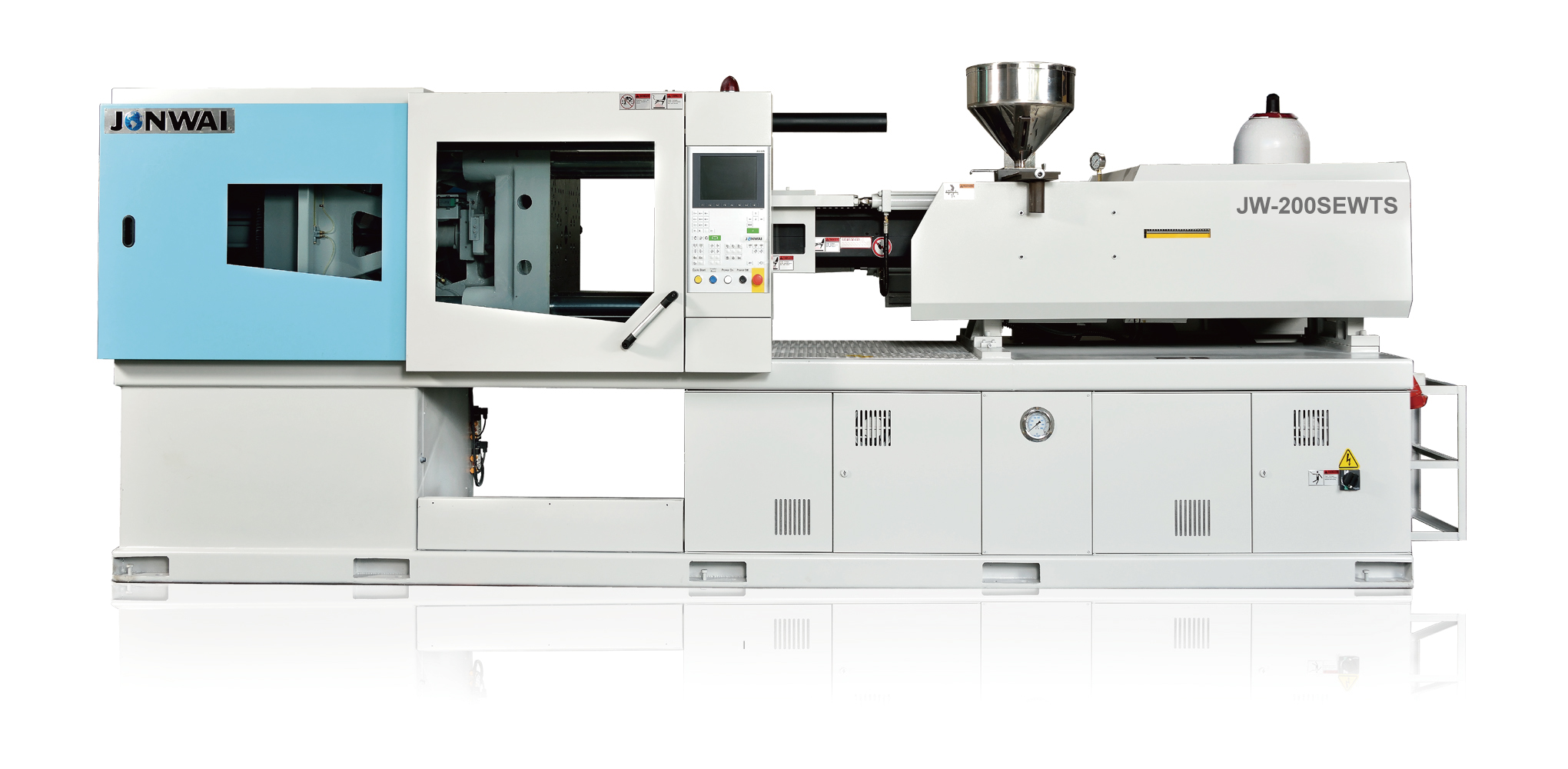 SEWT
Injection by accumulator with high injection speed.
Suitable for thin wall food packaging, closure and cutlery production.
High speed, high output, low running cost
Low Rejection Rate of Production
Tonnage sensor and over-tonnage protection
Cultery, Closure, Microwave Container, In-Mold-Labeling Container, Disposable Light Weight Crate,Ultra Thin Flower Pot
Download SEWT PDF
ABOUT SEWT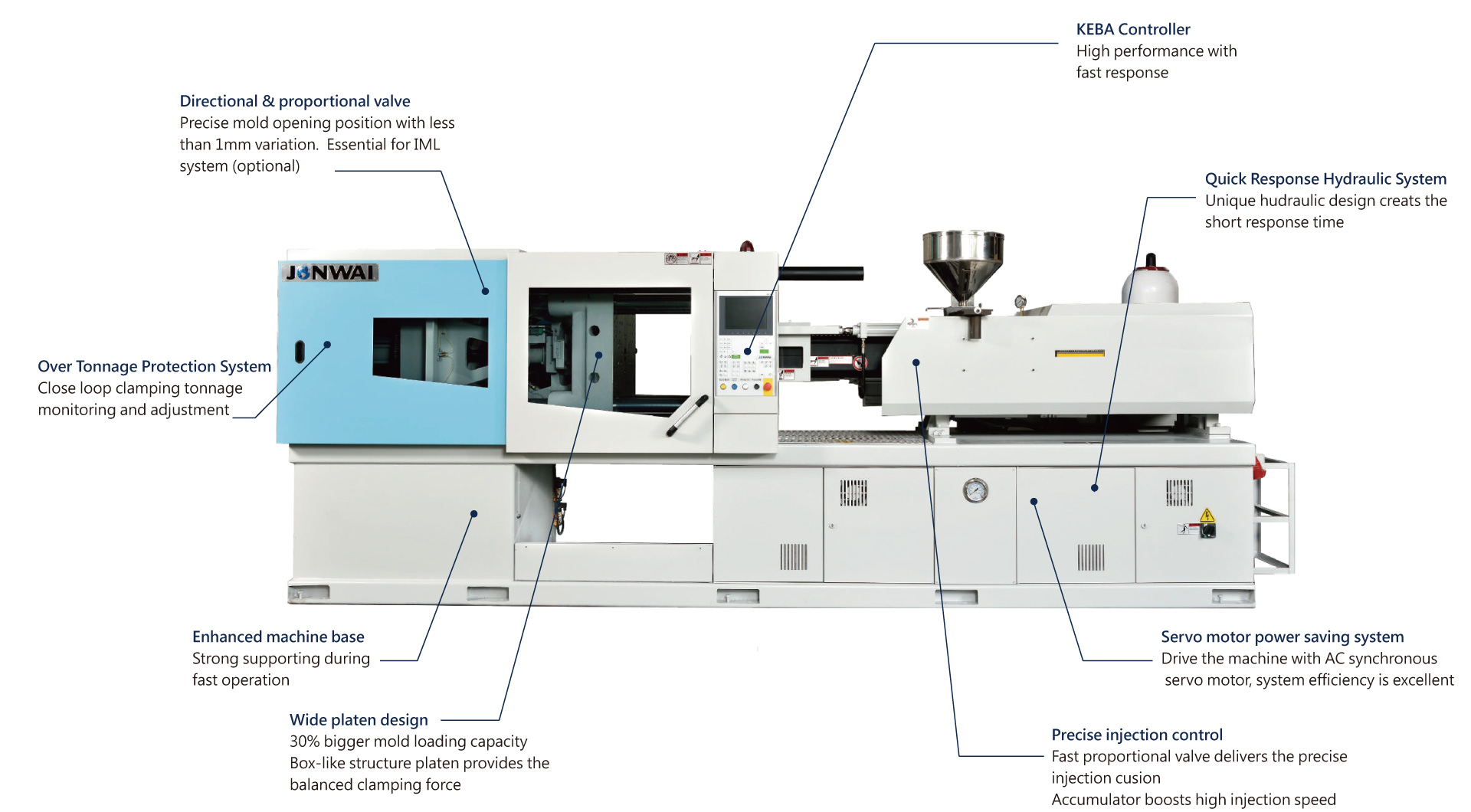 SEWT Features
High speed, high output, low running cost
SEWT machine design is specific for thin wall item that with high L/T (product length / thickness) ratio. It's suitable for food packaging application like
Microwave container
Ice cream & Yogurt cup
Cutlery
Closure
The VALUE delivered by SEWT machine is listed as below
High output -- Fast operation with short dry cycle
Low running cost -- Servo motor power saving system save more than 50% power
Low rejection rate -- High injection speed with precise control
Durable life -- Enhanced mechanical design, strong machine base make sure the long lifetime of machine.
Low Rejection Rate of Production
Injection by accumulator, the injection speed is 300~500 mm/sec. With such high speed, SEWT machine can shape any items easily. It will SOLVE the issues as below.
Short shot

With 300 mm/sec injection speed, material flow from the gate to edge within 0.2sec before cooling down. Short shot will not be the issue anymore.

Water Ripple Mark

The surface of container is not perfect? Injection completes before material cool down. Solve water ripple mark issue.

Warpage

The leakage issue from warpage is headache especiall for container and lid. Shaping the product by pressure, the stress residue on the product will cause warpage issue. High injection speed will make sure to shape the product by speed, but not pressure.
Saving is earning
High efficiency servo drive

Servo motor works with inverter, the power consumption can save 30 to 70% compare to traditional motor.

Electric charging system

Charging by electric motor has high efficiency. Compare to hydra motor, electric charging system can save another 20% power consumption.
Tonnage sensor and over-tonnage protection
Unique tonnage sensor built in the machine detect the machine clamping force precisely. Customer can set the require clamping tonnage and machine will deliver as per setting.<br />If the clamping tonnage is over 5% than design or setting tonnage, machine will stop and alarm. The mold and machine lifetime is ensured.
Features of SEWT machine
Wide Platen Design

The mold loading capacity increase 30% compare to square platen design. Same mold can load on the smaller tonnage machine. The enhanced platen reduces 20% stress residual. The mold deforamtion will be less.

KEBA Controller

Machine uses KEBA controller with fast response time and user friendly interface. Easy to operate. Our program team can customize as per customer's requirement

Precise hydraulic control

For IML(in-mold-labeling) robot, the precision of mold opening position is the key of rejection rate. With special valve (optional), the variation of mold open position will be controller within 1mm. It will be helpful for machine to work out with IML robot.
SEWT Application
Videos