SEW/EXS/PVCW
SEWT Series is capable to load bigger molds with more cavities because of wider platen design.
High speed, high output, low running cost
Low Rejection Rate of Production
Tonnage sensor and over-tonnage protection
Cultery, Closure, Microwave Container, In-Mold-Labeling Container, Disposable Light Weight Crate,Ultra Thin Flower Pot
Download SEW PDF
ABOUT SEW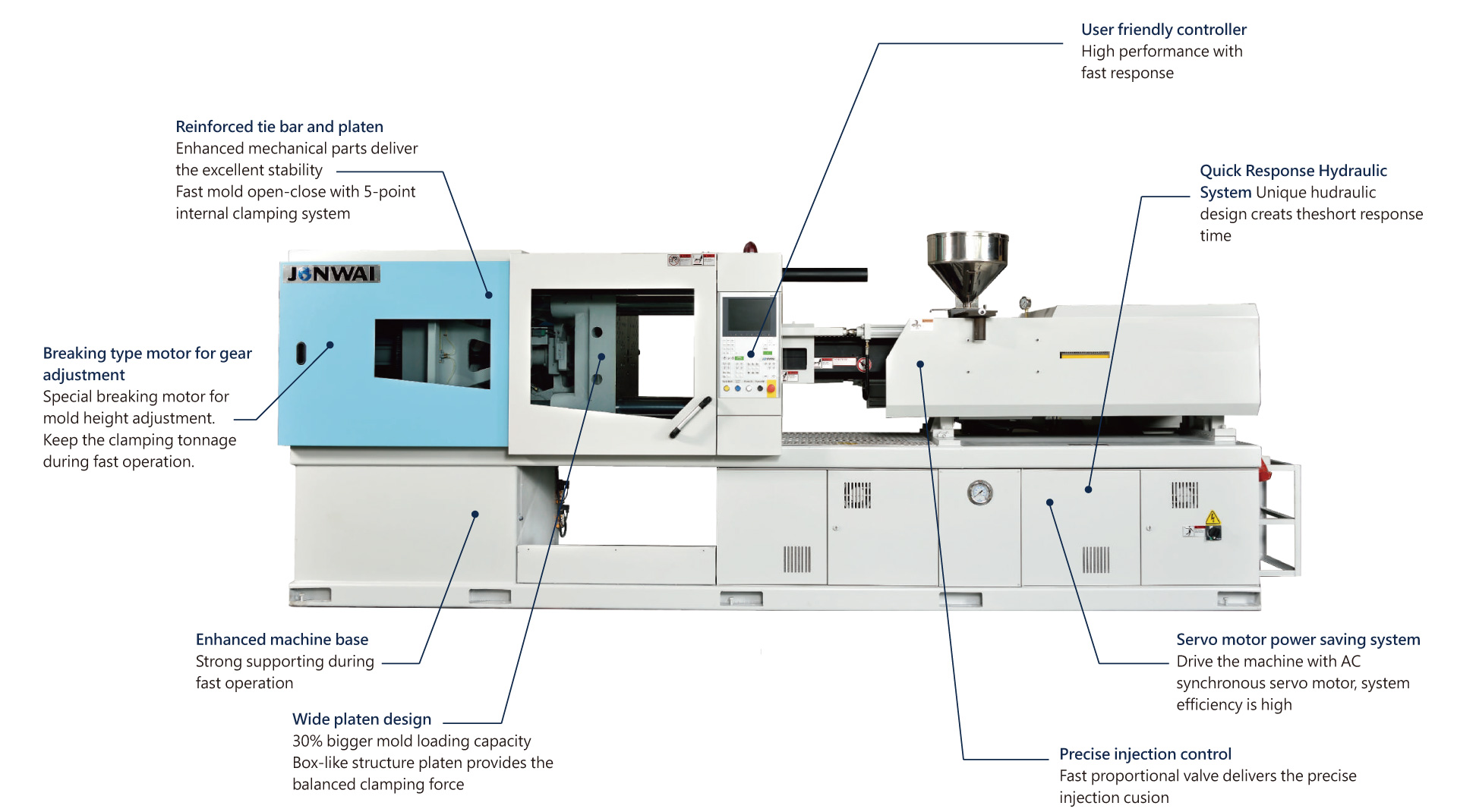 SEW Features
REINFORCED MECHANICAL STRUCTURE
Reduced tie bar deformation by 20-25% and increase durability
Minimize toggle pressure by 20-40% to extend liability
Strengthen toggle bushing/pin and reduce wear
Reinforced platen design diminishes 25% platen deformation for more even distribution of clamping force.
Widened platen and enlarged mold height obtain 20-25% more space for mold loading. Mold applications can be more flexible.
Increase opening stroke for 320 ~ 530 ton models
NEW HYDRAULIC DESIGN
Indepedent hydraulic control system
Automatic volumic toggle lubrication system
Low Noice & high efficient pump and proportional vavle control to lower defective rate and improve stability
SYNCHRONOUS SERVO MOTOR POWE SAVING SYSTEM!!
World renowned inverter brand
Gear pump for fast response, low noise and easy maintenance
Close loop speed control for high precision
In-built DC electrical reactance and RFI wave filter to prvent interference
SEW Benefit
Design For Precision Molding
Fast response, user friendly controller

Our powerful controller can run multiple tasks under high operation speed. With friendly interface, user can set the parameters and monitoring production easily.

Sensitive hydraulic circuit

We install Vickers, Tokimec, Yuken valves on machines. The unique hydraulic design reduces 20% dry cycle time.

Precision injection cusion

With sensitive hydraulic design and fast response servo motor, we can control the injection cusion precisely and maintain exact product shot weight.

Advanced electrical protection

Unstable voltage might damage Controller and electronic parts. We install upgraded inverter to drive the system and equip CT, MCB and fuse to avoid any damage from unstable current.
Flexible of Production
The innovation of mold technology improving constantly in decade. With the new valve gate and hot runner design, the required clamping tonnage reduced. It means the same mold can run on the smaller tonnage machine. However, due to the mold loading capacity, customer needs to load the mold on the big machine. The machine is over spec of production.<br />SEW has wide platen design that increases 30% mold loading capacity. The same mold can run on the smaller machine. Customer can also run the same tonnage machine with more cavity. The production is more flexible. There are several advantages of our wide platen machine.
High Ouput

The dry cycle of smaller tonnage machine is faster.
The output will increase.

Low power consumption

Smaller machine has lower running cost. And saving is earning.

Less investment

Buying a smaller machine instead the big one, the budget will be less.

Shorter payback period

Lower investment and running cost can make the higher output. It is absolutely a good solution for customer.
Low Running Cost
High efficiency servo drive

Servo motor works with inverter, the power consumption can save 30 to 70% compare to traditional motor.

Electric charging system

Charging by electric motor has high efficiency. Compare to hydra motor, electric charging system can save another 20% power consumption.
Customized features
Injection sequencial control (mold with valve gates)
Fly core/eject
Fly charging
Electric charging system
Bi-metallic screw and barrel for engineering material
Unscrew device
SEW Application
Videos